Def Leppard, Foo Fighters, The Who and Slash are among the big winners at The Rocks 2020! 
The brainchild of Wyatt, The Rocks - Planet Rock's seventh annual celebration of the greatest British and international rock music - is a direct response to the pop-obsessed award ceremonies that often ignore rock and metal music. 
Instead of being decided by anonymous music industry figures, every single category at The Rocks is voted entirely by YOU, the fans!
Since Wyatt first revealed the shortlist on air earlier this month, once again tens of thousands of rock music fans from every corner of the planet have cast their votes. 
Thanks to the emphatic success of their Hysteria Tour and their triumphant headline slot at Download Festival 2019, Def Leppard are the biggest winners at The Rocks 2020, scooping two prestigious gongs – Best British Band and Best Live Band. Incredibly, 2020 is the first time Def Leppard have triumphed at The Rocks. 
Def Leppard frontman and Planet Rock DJ extraordinaire Joe Elliott is in fact a triple Rocks winner after his side-project Down 'n' Outz fought off stiff competition to take the Best British Album title with their first record of original material, 'This Is How We Roll'. 
Elsewhere at The Rocks 2020, The Who have won Best British Single for 'Ball and Chain', Foo Fighters are crowned Best International Band, Bruce Springsteen has claimed Best International Album for 'Western Stars', and Guns N' Roses legend Slash is named Best Worldwide Solo Artist. 
Always one of the hardest fought categories, Liverpool rockers Attic Theory have won the Best New Band title. 
Check out the full winners list for The Rocks 2020 below. 
Speaking to Wyatt about Def Leppard's Best Live Band triumph, our very own Joe Elliott says: "I'm absolutely gobsmacked as they say. It's very humbling and so exciting. I've been doing this for 42 years and you still get a buzz and the hairs on your arms stick up when you get a result like that, it's incredible. 
"For (Def) Leppard to win Best Live Band… we had an amazing audience when we did the Hysteria Tour at the end of 2018 and to come back and do Donington last summer (Download Festival) was obviously the icing on the cake I suppose, so it's fantastic to get this vote it really is!" 
Reflecting upon winning two awards, Joe continued: "The popularity of Def Leppard does ride waves depending on how often we rear our head, but it is a fantastic achievement after all this time. If somebody said when we got together in 1978 that you're going to be winning these awards in 2020 you'd have laughed them off the planet. It's such a testimony to our fans; the hard that we put in to maintain a relationship with our fans. We're just so grateful that these things come along and we can enjoy them." 
Commenting on Down 'n' Outz winning Best Album ahead of the likes of The Who and The Darkness, Joe added: "Again, it's kinda scary considering that this is a band that we put together 10 years ago for a one-off 45-minute performance opening for Mott The Hoople, which went down so well we were kind of pressganged into making that first album, which led us to making the second, which led us to making the third but going 'you know what, let's push the boundaries here and write this one'. I guess the songs just resonated with people. 
"We're all in agreement here that Down 'n' Outz is a side project, but we do take it seriously enough that we want to do it well. I do believe it's a great record. Did I think it stood a chance of winning? Absolutely not. Not when you're up against the likes of… the Wayward Sons album is a wonderful record, The Darkness album, same thing. I'm absolutely beyond belief that we've come above The Who and Jeff Lynne's ELO. It's fantastic and you just can't thank the fans enough for it." 
The Rocks 2020 winners list: -----------------------------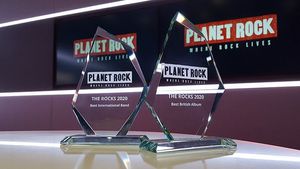 Best British Band 1. Def Leppard – WINNER! 2. The Darkness 3. Those Damn Crows 
Best British Single 1. The Who – 'Ball and Chain' – WINNER! 2. Planet Rock All Stars – 'You're The Voice' 3. The Darkness – 'Rock and Roll Deserves To Die' 
Best British Album 1. Down 'n' Outz – 'This Is How We Roll' – WINNER! 2. The Darkness – 'Easter Is Cancelled' 3. The Who – 'Who' 
Best International Band 1. Foo Fighters - WINNER! 2. Shinedown 3. Black Stone Cherry 
Best International Album 1. Bruce Springsteen – 'Western Stars' – WINNER! 2. Alter Bridge – 'Walk The Sky' 3. Black Star Riders – 'Another State of Grace' 
Best Worldwide Solo Artist 1. Slash – WINNER! 2. Bruce Springsteen 3. Joe Bonamassa 
Best Live Band 1. Def Leppard – WINNER! 2. Foo Fighters 3. Rammstein 
Best New Band 1. Attic Theory - WINNER! 2. Edenthorn 3. Hollowstar
Original article - https://planetradio.co.uk/planet-rock/news/rock-news/the-rocks-winners/