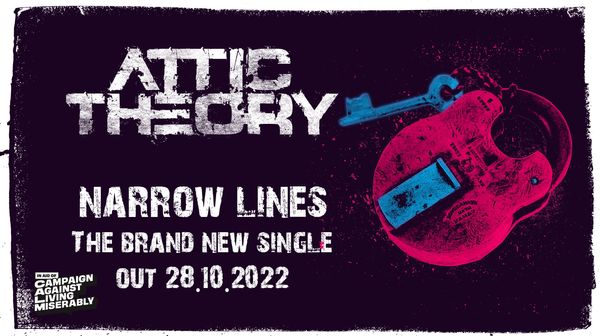 The award-winning alternative groove rockers release their moving new single 'Narrow Lines'; the second single from their highly anticipated forthcoming debut album 'What We Fear The Most'. Attic Theory will donate 100% of the proceeds received from downloads of 'Narrow Lines' on Attic Theory's webpage to the Campaign Against Living Miserably (CALM), charity number 1110621. CALM is a charity uniting the UK against suicide, the leading cause of death among men under the age of 45 in the UK. 
Frontman Lewis Wright said: "Our aim with the 'Narrow Lines' song and video is to raise more awareness for all those going through difficult times in their lives. The lyrics talk about how you can feel like you're trapped in a never-ending loop when going through troubling issues and hopefully the song will encourage the listener to reach out to CALM, who offer help, support and information to anyone who is struggling or in crisis." Lewis adds "We are asking people to download the single from our webpage and unite against suicide. We know that the donations will not only help to change lives, it will also help save lives." 
Pre-order your 'Narrow Lines' digital download here for just 99p - https://www.musicglue.com/attictheory/shop 
'Narrow Lines' will be available on all major streaming and digital download services on 28/10/2022, released via the bands own label 'ThunderGun Records' and distributed by Nova Music Distribution UK. 
To get support or access CALM's helpline, open 5pm -midnight 365 days a year, head to www.thecalmzone.net