3 years ago today, we supported Lew's favourite band Candlebox! Here is a review of the show by the lovely folks at Über Röck 🤘   
CANDLEBOX/MARK DALY/ATTIC THEORY – MANCHESTER, ACADEMY 3 – 18 JUNE 2019 
By DJ Astrocreep 
Following my sojourn to Birmingham for Alice In Chains last time out, it's quite fitting that my second home of Manchester should play host to Candlebox, a band who came out of Seattle around the same time as Alice In Chains, Pearl Jam, Soundgarden et al, should be my next gig. A brief trip across on the same night that Manchester hosts Metallica leaves me worried in advance of the dreaded gig clash attendance, while the double support indicates at a strong bill regardless.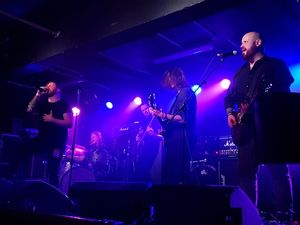 First on are Scouse alt-rockers Attic Theory, who we featured in the Singles Club not too long ago, who are an attractive proposition live, with plenty of poise, ability and chemistry to reel in even the poor showing that they open to, with people gradually gravitating both into the venue and toward the front – noticeably so – to take in their aural delights as Attic Theory make their way through their set, with axeman Tim and frontman Lewis clearly poking at the rest to keep spirits high amongst the members, especially important when considering it's the debut gig of their new drummer. They play with precision and passion, not letting the poor early crowd put them off in any way, as they finish with the aforementioned single, 'Saints Amongst Us', which sounds, like a few of their other tracks, like it could have come straight from Core era Stone Temple Pilots, along with a song along chorus –  a great way to open such a gig, with all members performing their roles well.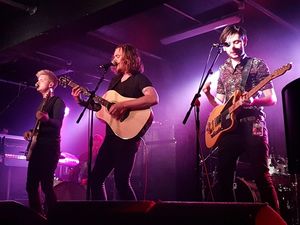 Our main support is Mark Daly, with the Cork-based four-piece playing their first Manchester gig this evening. While certainly no stranger to larger gigs, as his time with US supergroup Operation: Mindcrime will allude to, the pace is definitely dropped a couple of notches from our openers, with Mark himself playing an acoustic guitar and pulling double duties on vocals. The band are well rehearsed, as would be expected from anyone currently embarked on the main support slot with a touring band, with Mark's husky vocals fitting well alongside some blues rock that has more than an element of Celtic feel to its sound. There is no denying that Mark is a very talented vocalist along with able musicians, it just seems that both the audience and bill would suit a quicker pace and it's noticeable when this happens how much happier people look. This isn't meant as a slight to anyone in the band, as there are some quality songs within their 40-minute set, just after the pace of Attic Theory, they come across as a touch laboured at times, which they wouldn't have done had AT been a bit less ferocious. A pity, as they were otherwise quite worth their place on the bill.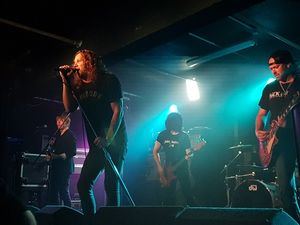 Headliner time and Candlebox are clearly in no mood to mess around, despite the diminished crowd. Coming on to a montage of Seattle's finest, they quickly demonstrate how they built up the fan base they did, along with why their music has such longevity, as Kevin's soaring vocals, so reminiscent of a bang in form Chris Robinson, alongside the twin lead guitar attack and pounding rhythm section, which provide more than ample support for each other, showcasing each other's talents. Their roadie has some work to do straight away, as Adam's bass has some technical issues from the off, which are rectified pretty quickly. Kevin's soul-soaked voice acts as a good mirror for the impressive instrument part of the band, with the crowd lifted from the off, small as it is, with a surprisingly good spirit amongst us a great indication of how well Candlebox are doing their job. 
After the grunge medley, we are treated to a run of 'Vexatious', 'Summertime' and 'Arrow', played at a breathtaking pace as Candlebox seek to maximise their own stage time, after being generous with the length of the slot for the support acts. A couple further in, it's time for 'No Sense' and 'Bitches Brewin', with the crowd still producing a lot of energy and passion despite the aforementioned depleted numbers. Kevin introduces the band, showing what becomes a customary level of self-deprecation through their set, as they push on with 'Mother's Dream' and 'He Calls Home', again a couple of songs later, apologising for dragging people to see them instead of Metallica, taken in the good humour it's given in. There's no time for encores as we approach curfew with 3 songs left, as we finish on 'You', 'Far Behind' and 'The Bridge', Kevin leaving the stage a couple of minutes before the rest with his duties done, as the band finish the outro. A breathtaking set at a breakneck speed. Glorious and worthy of far more than they got.
Original article - https://uber-rock.co.uk/candlebox-manchester-academy-3-june-2019/